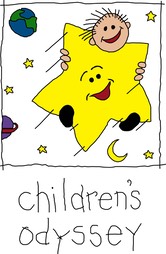 Starting Strong's mission is to help children in Portland meet reading proficiency by age 8. Our work in this area is cultivated by working groups designed to take on this mission, with community partners that work closely with children. We also seek out easily accessible campaigns that can be practiced throughout communities and have been proven to close word gaps that exist among families from various backgrounds. With Talking is Teaching and the 'Trusted Messengers" model, Starting Strong is able to offer literacy kits to families by way of local organizations working with families with children ages. 0-3. For the 2018-2019 Talking is Teaching Campaign, Starting Strong asked Children's Odyssey to become a trusted messenger. With great programs such as ones offered through Children's Odyssey and their high quality professionals, Starting Strong was honored to have them on board to hand out 24 kits between December and May. Laura Glover, Director at Children's Odyssey has taken some time to highlight becoming a trusted messenger with the 2018-2019 Talking is Teaching Campaign of Portland, in our Partners of the Month Series.    
Would you mind sharing a bit of your story in Early Childcare?
After graduating from college with a degree in psychology, I began working as a teacher supporting a child on the autism spectrum at the inception of Children's Odyssey.  I became director of the special purpose program (programming primarily for children on the Autism Spectrum, with Down Syndrome, or with Global Developmental Delay). I received my masters degree in Early Childhood Special Education from the University of Maine in 2011.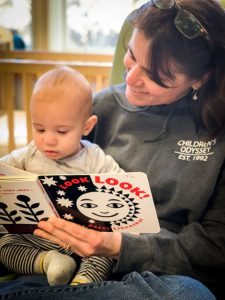 Can you tell me more about Children's Odyssey's history and the programming being offered today?
Children's Odyssey is a non-profit, year round, developmental preschool established in September of 1992 offering child care and programming for children 6 weeks through five years.  Special education services are provided to children who demonstrate one or more educational or medical disabilities of varying degrees and etiology to include but not limited to: Autism, Cerebral Palsy, Behavioral and Emotional Disorders, Attention Deficit Disorder, Hearing or Visual Impairment, Down Syndrome, Failure to Thrive, Feeding and Swallowing Disorders (Dysphagia), Chronic Lung Disease, and Seizure Disorders. Over the past twenty-six years we have been successful integrating children of differing developmental levels and abilities while promoting respect and awareness for individual differences, strengths and learning styles.  
When Starting Strong approached your organization to become a Trusted Messenger for Talking is teaching, what influenced you to come on board?
I have a strong belief in early literacy and language development.  Studies clearly indicate the importance of reading, talking and singing to our children, so any way this message can be shared with families is beneficial.
Since becoming a trusted messenger and being a part of Portland's campaign, how has your organization handed out the kits? Did you do group events or one on one?
We scheduled 10-15 minutes with individual parents during drop-off and pick up times so that it is convenient for families.
What do you see are the benefits of Talking is Teaching in Early Literacy?
Oh so many…speech and language development, cognitive development, social development, all important aspects of early literacy.
What would you like to see in future campaigns for Talking is Teaching?
Perhaps a parent night where families can connect, share experiences and play ideas.