In our March newsletter, learn about several area Week of the Young Child activities include ECE Day at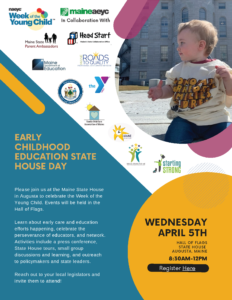 the statehouse on April 5th, from 8:30am-12pm. We have included some talking for communicating with legislators about ECE priorities.
We also have information about upcoming bills and how they would affect early childhood care and education. 
And don't forget to save the date for our Policymakers Picnic in the Park tentatively scheduled for May 17 in Deering Oaks Park.
Thanks for supporting ECE!