Join Us! New Child Care Business Lab
We are excited to announce the launch of a new Child Care Business Lab geared toward opening an in-home family child care in greater Portland! This opportunity is a partnership between the United Way of Southern Maine, CEI, the Greater Portland Workforce Initiative and Portland ConnectED – Starting Strong.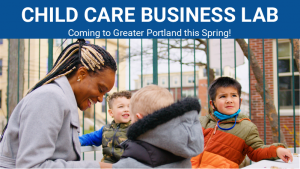 The Child Care Business Lab consists of groups of ten to fifteen individuals learning together how to start a child care program. The members of the group will have similar goals and may also share the same concerns or challenges. By joining the Child Care Business Lab, you will be part of an interactive, engaging community – establishing relationships that may last for decades. 
Participants in the Child Care Business Lab will: 
Develop a business plan
Be coached through the licensing process
Uncover best practices for managing a child care business
Learn how to secure funding
Work 1:1 with a business advisorReceive 1:1 individualized support throughout the program
There is no charge for the learning sessions or the meetings with the business advisors and child care mentors. The Business Lab will be available in English and in French (depending on demand). Participants will also be eligible to apply for special start-up child care business loans and we'll help you apply for any grants available. This 2022 program starts in June, and it is expected that entrepreneurs selected will open a high-quality child care business in 2022.
Individuals interested in learning more are invited to complete this form and/or join us for a virtual information session Via this Zoom Link on either Saturday, May 14th at 10am, Tuesday, May 17th at 7pm or May 26th at 10am. Questions? Contact Kwame Yeboah at kyeboah@uwsme.org.