Early education group tackling childcare accessibility
Starting Strong's Portland Works for Kids aims to find ways to make childcare more available and affordable.
PORTLAND — Lori Moses, executive director of the Catherine Morrill Day Nursery, has a waiting list two to three years long. Throughout her 35 years in the business, the demand for childcare has far exceeded supply.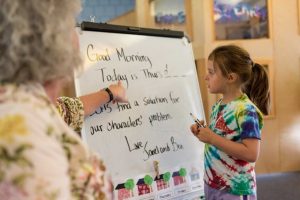 "There is a dire need for infant and toddler care," said Moses, whose child care center on Danforth Street serves 80 children from 6 weeks old to 5 years old and is accredited by the National Association for the Education of Young Children.
She hopes a venture launched earlier this month by Starting Strong will help make childcare more accessible for families in the area by focusing on boosting pay for childcare providers, which would attract more people to the industry. The initiative, Portland Works for Kids, aims to make quality childcare more plentiful and more affordable for parents across the city.