A conversation with Stephanie Nicoson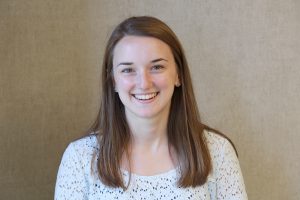 It's AmeriCorps week and we're happy to celebrate our own VISTA Volunteer, Stephanie Nicoson.  Read on to learn more about why Steph chose AmeriCorps and what her work looks like.  
How did you get involved as an AmeriCorps VISTA?
My senior year of college when I would talk to people about my interest in community engagement and collaborative change, many individuals recommended I consider AmeriCorps. It had already been on my radar so I started to look into options there more. The year of service with VISTA seemed to me like a great way to get to know a community and help wherever it was needed. With my college placing a huge emphasis on service, giving a year of my time entirely towards these efforts seemed natural and like a great chance to serve right out of college.  
Why did you choose to serve with Starting Strong?
When I learned about the work of Starting Strong, I was immediately interested. Throughout college I held many positions working directly with kids. After these experiences, the exposure to a collaborative like STST seemed like a great added perspective. Up until that point I only had the viewpoint of trying to help kids through curriculum while managing their behaviors. Through that time I saw a lot of struggles the kids faced outside the classroom that prevented them from truly engaging in our lessons or activities. It was often frustrating for me to see those barriers but only have time and resources to get them through the end of an after-school program day. I was excited at the idea of addressing these issues from the other end, looking at the root causes, analyzing them and changing things. Knowing that early childhood development is such an important time for the trajectory of a person's life and that community collaborative efforts have great potential to create change around issues, I couldn't think of a better way to spend a year of service than helping Starting Strong.
What impact does your service make in the community?
Starting Strong is a strong, well-functioning collaborative in the community. I believe that my service has helped to amplify this work. All our partners at the table are so busy managing their organizations while working to address deeper needs in the community – each is doing amazing work for early childhood development and has so much passion. I feel privileged to be able to see the behind the scenes of much of this and work to highlight the great efforts happening around Portland. I think I have been able to make the partners' work and STST's as a whole more visible to the community through various blogs. By serving for the partnership, I have been able to give STST more time on projects like our Too Small To Fail parent engagement campaign to build the capacity around it, hopefully setting it up to run more smoothly for future campaigns. I think my service has provided small help in areas like these which give Starting Strong an extra boost.
What skills have you used while volunteering?
I think I've been able to use organization and attention to detail a lot with STST to help prepare programs or processes for future use. Successful programs like our Reading Partners are well-functioning, I provide aid in summarizing the steps for the program so different schools can look at it and decide if they can take on the program. I've also helped get our Education Provider Series off the ground which requires a lot of organizing different information and different series going on over the season.
What have you learned from your experience?
During my time with Starting Strong, I have learned so much about the Portland community and the barriers children, families and providers face in the work of early childhood development. But I've also been able to see the amazing efforts being made to address these challenges. At every Starting Strong workgroup meeting, I see the wealth of knowledge and passion coming from every partner sitting around the table. I have learned the grassroots type of effort that goes around piloting programs and initiatives to address gaps in the community. I also have developed an even greater passion for early childhood development and continually learn more about why quality efforts are so essential for a child and the community at large.
What advice do you have for someone who is thinking about becoming an AmeriCorps volunteer?
There are so many different programs within AmeriCorps that are available to volunteer with. If VISTA doesn't seem like a good match, definitely look into the other options. VISTA is unique because it's not direct service. You have the chance to work within an organization to build their capacity which can look different for each site but overall helps you understand how a non-profit functions and the needs for that work in the community. I believe it is a great step for someone who might not know exactly what they want to do yet but are interested in non-profits and community change. Overall AmeriCorps is a great network to be a part of.