A Conversation with Jennifer Beck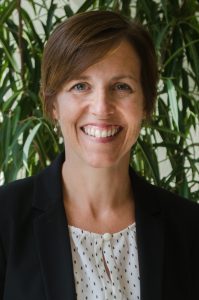 Jennifer Beck works for the John T. Gorman Foundation in Portland. She sits on Starting Strong's Leadership Team and is a valued partner in our work. Read on to learn more about Jen, the Foundation, and her work. 
Can you tell me about your position at the John T. Gorman Foundation and how you arrived at this role? 
My position at the Foundation is Senior Program Associate. My role is to help craft and implement investment strategies that can advance the Foundation's desired results within its four priority areas and help advance capacity building objectives related to leadership development and using data to drive results. Prior to joining the Foundation in 2016, I was an Associate Professor of Psychology at Austin Community College in Texas and an independent consultant specializing in program evaluation. 
What are JTG's primary focus points? How does Starting Strong fit into these?
The John T. Gorman Foundation advances ideas and opportunities that can improve the lives of disadvantaged people in Maine. To achieve the greatest impact, the Foundation has a special interest in strengthening families and helping communities provide them with the supports and opportunities they need to thrive. At the Foundation, we believe that advancing the academic achievement of Maine's youngest children is one of the most effective ways of ensuring their long-term success as adults. To that end, we support efforts, such as Starting Strong, that can help ensure that more Maine children — especially the most disadvantaged — are born healthy; that they receive appropriate developmental supports from their parents (whom we regard as their most important teachers); that their mental and physical needs are met; that they have access to the highest quality childcare and pre-school experiences; and attend elementary schools that successfully prepare them to read proficiently by the end of 3rd grade — the point at which children move from "learning to read" to "reading to learn."
What do you see as the unique and best role of philanthropy –and specifically JTG—in supporting improved childhood outcomes? 
We partner and collaborate with communities, schools, advocates, early childhood education providers and others to ensure that more Maine children get the quality experiences they need to meet critical milestones associated with long-term academic success. Our role in supporting improved childhood outcomes and our approach to grantmaking is rooted in a set of values that influence the decisions we make, the strategies we advance and the investments we pursue: 
• We value families; 
• We emphasize prevention;
• We emphasize data and results;
• We look to promote sound public policy;
• We value partnerships and collaboration; and
• We honor the Foundation's grant making legacy.
How have you seen STST affecting change across Portland?
We value Starting Strong, and its parent initiative Portland ConnectED, in their commitment to community collaboration as a means for catalyzing positive change. We are encouraged that the collaborative is taking a cross-sector approach that values using data to drive decisions and work in a results-focused way. We are also supportive of the initiative's willingness to pursue comprehensive and integrated approaches to address complex challenges in our community.  
What do you hope to see in the future for this partnership?
We want to keep the needle moving and continue to achieve better results for Portland children and families. We want kids to be safe, healthy and ready to learn and we want to ensure they have the conditions and opportunities needed for life long success. 
What is your favorite children's book and why? 
As a kid, I loved everything written by Shel Silverstein. In addition to finding his poems fun and offbeat, I always felt that he truly understood and respected kids' voices and perspectives.