A look into Starting Strong's support for pilot programs: R.A.D. at Mayo Street Arts
Starting Strong's (STST) mission, as a community coalition, is to ensure all children in Portland enter kindergarten ready for school and read proficiently by the end of third grade. As John Shoos, chair for STST Leadership Team says, "the unique part about Starting Strong is that we have people involved from across the community who are very knowledgeable and able to identify specific gaps and needs. Once that work is done, Starting Strong is able to help create and inform innovative programming and provide the resources to make a difference. It's valuable and an informed investment."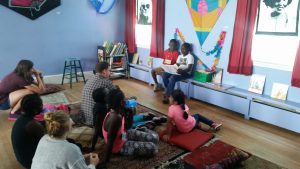 Blainor McGough, director of Mayo Street Arts, came to STST in 2015 doing exactly this – identifying a gap in the community which matched the partnerships desire to provide academic enrichment  alongside summer meals. Jennifer Burns, who was STST's Director at the time, pushed the coalition to "be at the forefront of what was emerging in the community and be aware of where national knowledge around best practices met with local interest." She explains that this role brings value to Portland's provider network and meets community needs.
McGough recognized the need for more youth programming in the East Bayside neighborhood but as she says "Mayo Street Arts is a grassroots arts organization.  When we developed R.A.D. we were in our fourth year, so we would not have had the resources within our budget to provide a program like that. No way." And thus, Mayo Street Art's summer R.A.D. (Reading, Arts, Dance) program became Starting Strong's first foray into supporting a pilot.
"At the time, Starting Strong's interest was in driving innovative work to happen faster, with more direct impact on kids, all of those things tended to move us towards proofing concepts that would do that. Even if it wasn't explicitly identified at the time, it seemed like our natural role," recalls Burns.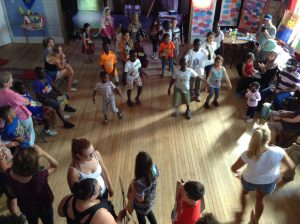 Four summers later, STST now supports pilot programs as an established part of its efforts to help make progress towards school readiness and third grade reading.  STST's role as an initial investor in a pilot allows organizations to seed an idea, test out best practices, and gain a few years of established experience. According to Shoos, this initial funding "helps a program prove its value -that it is meeting goals and doing good work- to the community and to other potential funders" for furthered, long-term investment.   
STST's  investments in pilot programs includes funding, but additionally, the collaborative nature of the partnership allows programs access to a network of providers willing to work together and share knowledge and expertise. For Mayo Street Arts, STST helped connect R.A.D. to the Portland Public Library and incorporate best practices for low-barrier literacy enrichment. As Shoos notes, supporting pilots allows for "more robust programming for the provider and more robust use of STST's resources."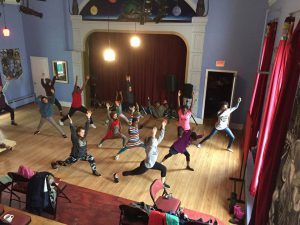 Looking to the future, Burns hopes that through the success of RAD, STST has shown providers that "whatever your specialty is, you can support student literacy. You can understand your neighborhood and its needs. McGough's work can inspire people with other passions to incorporate them into literacy efforts."
Today, the R.A.D. program receives a majority of its funding from the Brick and Beam Society – a local affinity group of the United Way of Greater Portland. It will be the program's fourth summer and they expect to over double the amount of kids since it began.  In addition, the hours have expanded, there is a formal relationship being built with the East End Community School, and a morning program and lunch have been added. R.A.D.'s growth into a dynamic, collaborative, and engaging program happened over these three years thanks to Mayo Street Art's passion. McGough continues to work with community partners to see that every kid in this neighborhood is participating in something engaging, helpful to them and says, "the program would not have grown without Starting Strong."