Partner of the Month: Laurie Mack of Northeast Hearing and Speech
Laurie Mack is a Speech-Language Pathologist and the Executive Director of Northeast Hearing & Speech (NHS). She has b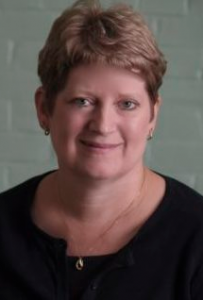 een a consultant for the Early Reading First Program with the Muskie School of Public Service at USM, and is a Hanen Certified Trainer for Early Childhood Educators. Laurie is an active member of the Portland Connect Ed Starting Strong Committee and the Westbrook Children's Project, both community initiatives to improve kindergarten readiness and third grade reading levels. Her work in the community has focused on supporting parents, students, and early childhood educators in the facilitation of language and literacy with preschool children. Laurie is a certified member of the American Speech-Language Hearing Association (ASHA) and enjoys providing trainings at the local, state, and national level.
Why is your organization's work essential to the specific population it serves? What needs are you specifically meeting?
The ability to hear, speak, and communicate is not only critical to a child's success in kindergarten but a basic need that we, as human beings, all have to relate to people around us.  Northeast Hearing & Speech helps people of all ages to hear, speak, and communicate. Our speech-language pathologists evaluate and treat those who are struggling to understand and learn language as well as those who are difficult to understand.  Ninety percent of our speech-language therapy services are provided to children ages birth-5 years in their preschool or early education programs or in our clinic. Our audiologists evaluate hearing and provide amplification for infants through the most elderly.  Our youngest hearing aid user started wearing hearing aids at the age of 2 months. Without therapy and special accommodations, children with speech-language and/or hearing concerns cannot access their early educational programs or learn from their very best teachers—their families and friends.
How is your organization making a positive impact on child readiness and ability to be successful through schooling?
According to the American Academy of Pediatrics, "Every year, one in three American children start kindergarten without the language skills they need to learn to read".  This is because oral language development underpins literacy.  We work with children who have speech and language delays, so they can be on track for success in kindergarten.  We also provide training and support about how to facilitate language and early literacy skills to parents, early education providers, and other caregivers so they can support the language development not only for children who are at risk but for ALL the children in their care.
Can you tell me a little about some of your programming or approaches? 
Many of our speech-language services are provided in the child's natural environment. For children birth to five this is often in their homes (birth-2) or their early education setting, where we work closely with their teachers or other early intervention specialists to share information and ideas about how to support the child in their classrooms.  We also see children in our clinic, where families are directly involved in the treatment sessions, so they too can learn how to support their child's learning in everyday routines at home and in the community. Treatment is play based and responsive to the child's needs and interests.  Our therapists can often be seen on the floor playing with a variety of toys and materials (trains, books, cardboard boxes, pots and pans, etc.) while we address the child's communication needs and model strategies for parents and caregivers. We want to make communication fun and exciting for the child. 
Our audiologists evaluate the hearing of children of all ages—even infants referred from hospitals following newborn hearing screenings.  We use the most advanced equipment and play based approaches so children who have hearing loss can be identified as early as possible.
We work closely with physicians, case managers, parents, teachers, and Maine's early intervention system to find the children who need help with speech, language, and hearing as early as possible.  If identified early, many children who receive intervention "graduate" from treatment and go off to kindergarten ready to learn without the need for special services or support in the early elementary years.
What is one part of your organization that you are most proud of?
Our amazing staff and our reputation in the community.  We work hard to recruit and retain the most qualified individuals, who believe in our mission and love what they do.  This shows when people see them working in the community and it shows when the people we treat have success in improving their communication skills.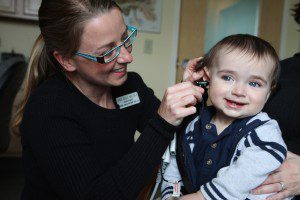 How/why did you become involved with Starting Strong?
We learned about Starting Strong through our partnerships in the community and the United Way of Greater Portland.  We knew that what we were doing as an organization had an impact on the lives of the children and families with whom we work but we wanted to expand our reach out into the community and create partnerships to enhance language skills in all children, not just those who had delays significant enough to warrant intervention.
How has this partnership enhanced your organization and internal affairs?
Our partnership with Starting Strong has enhanced our ability to make connections with a wider variety of organizations in the community.  We are learning from and growing with those who are invested in improving the quality of experiences for young children, supporting parents of young children, and helping to identify children at risk so we can get them the services they need to succeed in their education and beyond.  
Since joining the collaboration what changes have you seen in your organization and the community at large?
In our organization, we've seen growth in the number of parents, teachers, and caregivers interested in learning more about how to support the development of young children.  We've seen an increase in the number of people who come to trainings. We've seen an increase in the communication between agencies who otherwise would not have known about one another.  We've established relationships with physicians and community case managers who we had not met previously. We've felt more successful in communicating just how important speech, language, and hearing skills are in the development of a young child and their success in school and life in general.  We've felt more connected to our community.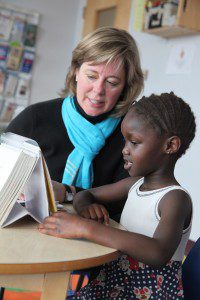 Starting Strong is an excellent opportunity for all of us to rally around our children and give them the tools they need to succeed.  We are so proud to be a part of this work!