Week of the Young Child School Readiness Parade and Festival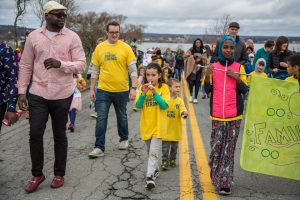 On April 27th from 10:00-12:00PM Starting Strong, Maine AEYC, Northeast Hearing and Speech and many other Portland-based early learning organizations celebrated the Week of the Young Child. The festival started with a sidewalk parade from East End Beach to East End Community School. Upon arrival the school was filled with many organizations that work with young children. There were table and floor activities for kids and families. For parents a variety of organizations were available to discuss social-emotional development and well-being for their children.
Maine AEYC helped lead the charge on public policy and advocacy initiatives with ways to help parents get involved with legislation. Upwards of 100 children received free t-shirts to wear as they marched to the festival. In the gym there was live music, exciting developmental games, read-ins with local legislatures as well as with the Portland Public Library bookmobile and the Greater Portland METRO. Youth and Family Outreach's Chef, Dylan made high quality snacks for families to enjoy. Starting Strong thanks all of the organizations, families and volunteers who helped the event be so successful and fun for the children, we look forward to planning for next year.