Starting Strong's mission is to help children in Portland read by age 8. Our work is cultivated by community partners that work closely with children. Together, we seek out easily accessible campaigns that have been proven to close word gaps that exist among families from various backgrounds. With Talking is Teaching and the "Trusted Messenger" model, Starting Strong is able to offer literacy kits to families by way of local organizations working with families with children ages. 0-3. Since the launch of Talking is Teaching in 2017 Maine Families has been one of our Trusted Messengers, handing out over 200 kits to families throughout Greater Portland. We spoke with Liana Popkin from Maine Families to learn more about the great work her organization does.  
How did you arrive at the work you do?
I originally studied to be a teacher and often wondered about how my students were being supported at home.  Was anyone helping them with the homework I assigned? Were they having breakfast before they got to school? I wanted to try something different, completed a year of AmeriCorps to work in family literacy, and soon recognized that I had a real passion for working with whole families.  I went back to school for social work in search of where I could make the biggest impact on children's lives. After some searching, I realized I had to go to where children are just starting to learn about the world – from their parents, in their homes, starting from the beginning. Lucky for me, Maine Families does exactly that!
Why is your program's work essential those you serve? What needs are you  meeting?
What research shows us over and over again is that parents and caregivers make the greatest impact on their children's lives, but at the same time, they have the least support for this most demanding job.  Maine Families provides that support based on what each family needs – whether that's information about sleeping and feeding, connections to their community, or just someone to talk to and confide in. The work looks simple from the outside, but it's incredibly complex when you think about the realities and pressures that families today face.  I really believe we're making generational change one parent-child relationship at a time.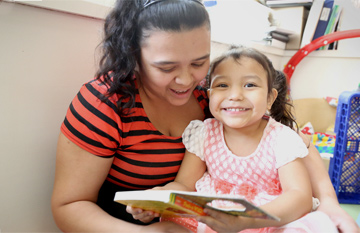 How is your program making a positive impact?
We always approach the work with the foundational assumptions that all parents want to do well by their children and every parent is an expert on his/her child.  We also believe that confident parents raise confident children, and confident children feel safe to learn, grow, and thrive. Using these core beliefs, we build parents' confidence and knowledge base, which they then adapt to their own ideas, experience, and contexts.  We plant seeds around topics like safety, attachment, play, literacy, nutrition, sleep, mental health, and healthy relationships, and then help them navigate towards decisions and approaches that work for their family. We also help them develop goals and connect with community resources so that they can move closer to where they want to be in life.
Can you tell me a little about some of your programming or approaches? 
Maine Families is a statewide program offered in every county.  It's free, universal, and very low barrier. If you are pregnant, have a newborn, or have recently adopted an infant, you are eligible!  We are a certified site for the evidence-based model and curriculum called Parents as Teachers that provides a backbone structure and information of our visits, and as a complement, we follow an approach called Touchpoints that guides our philosophy towards families.  Last year in Cumberland County, we visited 268 families and completed 2,548 visits. Visits last about an hour and typically touch on 3 areas: an opportunity for parent-child interaction through an age-appropriate activity, developmental information (i.e., what's coming up next?), and exploration of the well-being of the family as a whole.
What is one part of your work that you are most proud of? 
I used to be a Family Visitor myself and now I have the amazing opportunity of supervising others doing the work.  We have an absolutely amazing group of women, and I am constantly blown away by the difference they're making with families.  They are smart, observant, thoughtful, kind, fun, creative, and present, and I know that families think the same thing; otherwise, they wouldn't let them back in!  I feel proud that they are out in the community representing our program and changing the trajectory of children's lives. Almost all parents say, "I want my child to have it better than I did," and we get to bolster them in a way that can allow that to become a reality.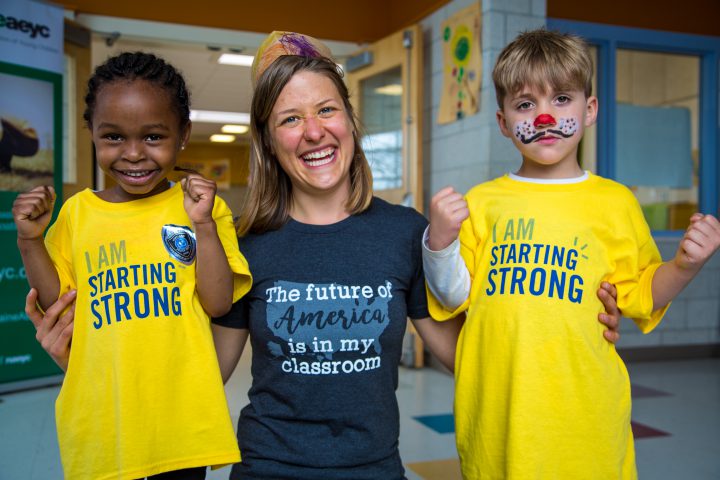 Since Starting Strong started Talking is Teaching, how has the partnership grown? 
This will be the third year we're participating in the Talking is Teaching campaign.  I've been excited to watch Starting Strong's responsiveness to what families and providers are saying about the campaign and the materials.  Family Visitors have really appreciated having physical prompts as an additional way to facilitate our frequent messaging about talking to your child, prompts that they are also seeing in the communities in which they live.  
What are you hopeful of with Talking is Teaching?
We hope for an even more successful campaign this year.  Family Visitors have figured out how to better integrate the materials into their visits.  Some families may be participating for the second or third time, so it's an opportunity to do a reminder!