2022 Priority Activities for Starting Strong's Portland Works for Kids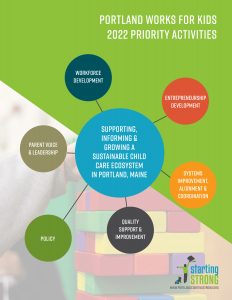 Portland Works for Kids convenes local leaders and stakeholders, shares resources, combines efforts, and collects local data to help identify specific areas of need and inform strategies. In August 2020, we developed a policy agenda with overall strategies to support access to affordable high quality early childhood care and education, as well as to help rebuild a more sustainable childcare system. You can find our strategies here. Earlier this year, we developed a list of 2022 priority activities that support these strategies, with a focus on supporting, informing, and growing a sustainable child care ecosystem, including:
Parent, voice and leadership
Workforce development
Entrepreneurship development
Quality support and improvement
Policy
System improvement, alignment, and coordination
Click here to download Portland Works for Kids 2022 Priority Activities.