Our Latest Newsletter: 2021 Brought Us Together for Child Care | Our Work Ahead is to Support Long-Term Sustainability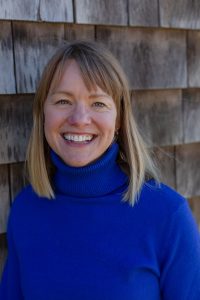 I feel a tremendous amount of gratitude as I look back over the past year. In spite of – or perhaps because of – the on-going challenges caused by the pandemic, we have come together like never before to elevate awareness about the importance of early childhood care and education (ECE) to our children and families, as well as to the vitality of our community.
In 2021, we saw the largest investments in ECE in Maine, primarily from pandemic relief funds. A few highlights include $73 million of direct payments to child care providers via stabilization sub-grants; $10 million for PreK Expansion Grants; and $10 million toward child care infrastructure. Cumberland County is investing $400,000 to make child care available to its employees, as well as an additional $11 million over the next two years in grant funding that is eligible to support ECE. In addition, the City of Portland is slated to invest $1 million in a first tranche of funding specifically for early care and education and is streamlining the process of opening up new child care centers. (See funding map for more details.)
 
Over the past year, Portland Works for Kids partnered on state-wide efforts to support groundbreaking legislation, including LD1712, sponsored by Senator Troy Jackson, which supports comprehensive, high-quality early child care and education services in Maine.
 
Our business partners have shared the message that we need child care to have a productive workforce and thriving economy. We are grateful for their support in advocating for policies and legislation to make quality child care accessible and affordable for more families in Greater Portland. 
 
The pandemic helped shine a spotlight on how frail the current child care model is – high costs for families, low staff wages for early childhood educators, and often long wait lists for those trying to access quality programs. We need to overhaul this system that has not historically worked.
 
As we look to what lies ahead in 2022, we hope to see continued investments that support the long-term sustainability of ECE. We will look for opportunities to rethink its infrastructure, including recommending that early care and education become a public good similar to our roads, bridges, and K-12 education. We will continue to support Portland's public Pre-K expansion through a mixed delivery model that includes opportunities for greater family choice, wrap-around care for working families, and support for educators. And we look forward to working with partners at the state level to advocate for Speaker Ryan Fecteau's bill, LD1652, to support the early childhood education workforce.
Critical to our work this year will be engaging more families from diverse backgrounds to share their stories and help advocate for quality child care. In addition to convening regular meetings of our parent group, we will be conducting a survey of parents in the next few weeks to better understand their needs and capture their experiences.
While 2021 was a challenging year for many children and families, these policy victories were encouraging; however, we know they represent just the first step in rebuilding our child care system. If you are reading this newsletter, you are already engaged in this important effort and we thank you! However, you can help us even more by sharing this newsletter. Also, we will be sending out a link to the parent survey in the next few weeks; if you know a parent, or regularly communicate with parents, would you please take the time to pass along the survey?  
Thank you and Happy New Year!
Katie Soucy, Director
Starting Strong
Read and share the newsletter which including several upcoming professional development opportunities.